Hair Design
Haircuts
Boy's Haircut (Under 12)
$35+
Girl's Haircut (Under 12)
$40+
Blow Dry
Working on hair with extensions requires more time, please make us aware (additional time $10-25+)
Add-on curling or flat iron for an additional $10-25+
Braids
Everything from classic French braids, to accent braids, to corn rows.
$15-200+
Extensions
Hair extensions are lengths of either real or synthetic hair that can be affixed close to the scalp through a number of systems. When well matched in color and texture, and professionally applied by a competent extensionist, hair extensions mix in and move naturally with your own hair, making it difficult to tell you are wearing them. They can provide volume, extend hair, and add highlights or lowlights without the harshness of coloring your own hair. Some extensions can be worn continuously for up to 3 months before requiring maintenance. Hair extensions come in many colors, textures, styles and lengths to match any hair type.
Tape in Extensions
$60+ /each
consultation and prepaid hair order required
Colored Extensions
$55+ /each
Treatments
Scalp & Hair Repair
Keratin is the primary protein of the skin, hair and nails. This natural substance gives hair the ability to return to its original healthy, shiny, smooth and conditioned state. The treatment can be applied on all types of hair, virgin, including chemically treated hair (colored, permed, relaxed, highlighted and bleached).
A natural straightening process using vegetable tannin. Hair will look healthier and shinier. Keeps your hair straight for about three months including those hair more unruly curls.
Scalp Massage
Since shampoos are complimentary, turn yours into a heavenly experience with an extended scalp massage.
Scalp & Hair Repair
A rich, ultra-moisturizing hair mask that reduces breakage + prevents future damage.
SUMMER SPECIAL Schwartzkopf BLOND ME Mask
$15 (reg $35)
Kevin Murphy's SCALP-cial
$50
Amazing treatment for Dandruff, but also a wonderful experience for anyone's scalp. Includes a Scrub, Serum & Mask- truly a facial for your scalp!
Leaf & Flower Molecular Mender
$50
Kevin Murphy Young Again
$55
Amika Bust your Brass Mask
$25
stop brassiness in its tracks with our bust your brass blonde collection! cruelty free + filled to the brim with super stuff only
Instant shine mask from dull to dazzling! This flash-acting mask delivers brilliant moisture and shine in just 60 seconds.
Amika Charcoal Cleanser
$10
Great hair starts at the scalp. This invigorating scalp cleansing oil detoxifies while banishing build-up, dirt, oil, and odor for an overall fresh feeling.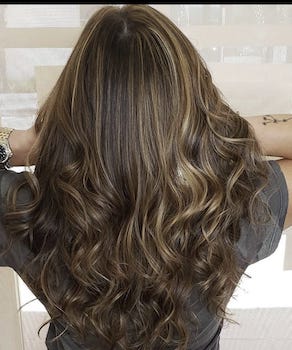 Speciality Processes
Color
Color Correction
consultation required
Foils
Spot Foils
$10-25 per foil
Balayage
Relaxers
Perms